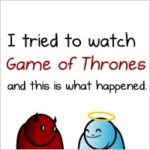 Look out, intrepid Pinners. Spam has made it's way to Pinterest. I posted a lovely cartoon by The Oatmeal about how frustrating it is to try to watch Game of Thrones, and within seconds had a "like." While that's not all that odd, what got my interest was that the like was from a company– they were using a logo, rather than headshot for their profile image. Curious, I clicked through to their boards. Wow. If I were a coupon clipper, I would've been in nerdvana. Then, I looked at the little activity ticker on their profile.   As you can see, they had liked about 49.3 billion other posts "just now" (meaning just then… right before…). Anyway, I figure that either they have a team of trained chimps hitting the heart/like button on Pinterest, or they've developed a spamalicious tool using Pinterest's API.
Anybody know how they're doing this? I mean, seriously. 307k+ likes?
P.S. To the product managers at HBO: you're an interesting dichotomy. You produce outstanding shows, but are so stuck in outdated business models and distribution methods, that you're leaving a lot of money on the table. "Piracy" just shows that you're not effectively serving current market demands. Sure, it's easy for me to criticize from the outside; I don't know all the complications due to royalties, and blah blah blah MyBrainJustMeltedFromBoring. Yep. But you work there and I don't. So fix it. I'd be happy to pay you per episode, or for a season pass to a show. But I'll never sign up for a cable subscription again, which means I'll never add the HBO subscription on top of that already ludicrous cable charge. You don't need those cable companies anyway. You're HBO. Act like it.