I am a musician. I write, record, and play songs. I spend months pouring my deepest feelings into a dozen or so 3 minute tunes.
In the good ol' days, I could've signed a deal with some huge record label, borrowed a ridiculous amount of money from them to record those songs, and end up putting 2 good songs, 5 mediocre songs, and 3 terrible songs on an album.
Then, I could have signed a distribution deal with some other company, where they'd promise to get my darling little album into those beacons of art-loving culture everywhere: Walmart, Best Buy, and Target. Of course, the distribution company would have charged me a "breakage fee" that is the same percentage as when they were distributing vinyl records, not virtually indestructible CDs. Oh, they'd also charge that breakage fee on digital downloads.
Then, if anybody bought my 2/5/3 (good/boring/bad)  album, the retailer takes a cut, the distributor takes a cut, the label takes a cut and repays themselves (with loan-shark-level interest) that fat loan I took to record. Then, if there's anything left, I'd get about $0.50 an album. That's $0.05 per song, for you non-math types. Seems like an awful lot of hullaballoo for me to earn $0.05 per song.
******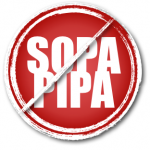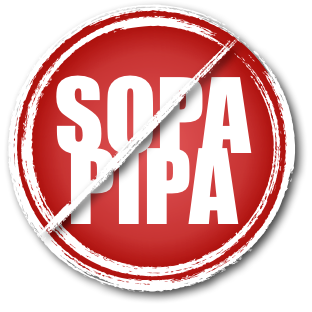 As a musician, I don't need those companies who are trying to preserve a bloated, dead business model by litigating their customers into obedience. I don't need those companies who are trying to preserve a bloated, dead business model by censoring the Internet with asinine, heavy-handed legislation like the Stop Online Piracy Act (SOPA) and Protect Intellectual Property Act (PIPA).
SOPA and PIPA would let a company effectively obliterate a website if it contained a link to a download copyrighted material. Or if a site visitor posted a copyrighted picture or quote. No due process. No nothing. Just, pow! Gone from the DNS. Gone from the DNS, but not gone from the Internet– anyone could still get to the "offending" website by typing in the website's IP address. So gone. But not. And you and I both know that the "pirates" will just type in the damn IP address.
I don't need that huge loan to record some songs anymore. I can do it with my computer and less than $500 worth of gear in my basement.
 And I don't need that distribution deal anymore. I can effectively and efficiently deliver my music to anyone in the world who has Internet access.
And I don't need those retailers anymore, either. I can use places like AmazonMP3. Or iTunes. Or Bandcamp. Or Soundcloud.
******
People who pirate music are actually just an under-served market segment. Music pirating is the market telling me it doesn't value recorded music the way it used to. It's my job as a business owner, then, to shift my unit of value to something the market is willing to pay for.
I actually do still purchase music– but not  nearly as much as I did before I signed up for Spotify. And if someone still wants to charge to sell their music, that's fine with me– I just think it's a stupid business decision. Instead, give the music away as a marketing campaign. Give it away in exchange for signing up for a mailing list. Or, give it away to anyone who comes to your show (give them a little card with a download link/code/something). Or, give it away to anyone who promises to share it with their friends. Use your recorded music as a way to get people to your shows, where you make money on ticket sales, merch, and a cut of the bar sales.
******
If you'd like to learn more, watch the video below. Then, once you're sufficiently pissed off, do something about it.
PROTECT IP / SOPA Breaks The Internet from Fight for the Future on Vimeo.